With the conclusion of the Light and Darkness saga drawing closer, players are keen to know exactly what they can expect fromDestiny 2 Season of the Deep. Season 21, which will be the second in the Lightfall saga, will undoubtedly bring a lot of new challenges for players. As such, when is the Destiny 2 Season of the Deep release date?
One of the biggest changes in thisDestiny 2season will bring is a move away from the formulaic seasonal structure which we have seen for the last couple of years. So, Season of the Deep will hold a lot more surprises for players than the previous season in the Lightfall era. Before we head into our next fight against the Witness, get your hands on thebest Destiny 2 PvE weaponsandbest Destiny 2 PvP weaponsright now. While Season 21 won t be bringing any new weapon types, why not check outsix new weapon types we d love to see in Destiny 2?
Destiny 2 Season of the Deep release date
The Destiny 2 Season of the Deep release date is Tuesday, May 23, 2023, at 10am PT/6pm GMT, as confirmed by Bungie in a recentTWAB post.
This marks the second season in the Lightfall year, with fans hoping it builds upon the story from Season of Arrivals and the new developments since Lightfall. Therefore, the Season 21 release date comes with lofty expectations from many players hoping to see improvements from Lightfall and Season of Defiance.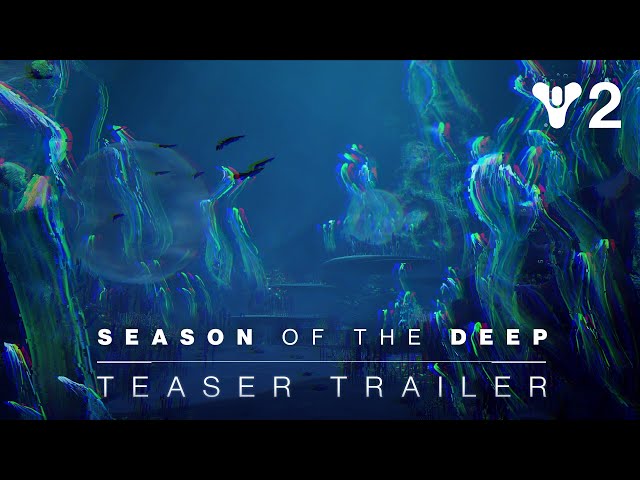 Destiny 2 Season of the Deep story details
Bungie has not revealed much about the story of Destiny 2 Season of the Deep, though from the official key art and trailer above, it appears Sloane is making her return. It s believed that the large eye seen in the background is that of a Leviathan, likely the enemy of the Witness that is supposedly on Titan. As such, it looks like we will beheading back to Titanwhich lore has been hinting at for a while.
It s worth noting that The Deep is another name for the Darkness so maybe we could see the force slowly creep its way into our world in new ways. Of course, we could also see Xivu Arath appear, who has been slowly teased over the last year of the game.
Destiny 2 Season of the Deep news and gameplay
On the gameplay side, as revealed by Joe Blackburn on aBungie.net blog, Destiny 2 Season of the Deep will not feature a vendor upgrade system, after players have grown somewhat tired of the mechanic. This season also won t have a power increase or grind in order to prevent some of the power creep we have seen recently.
Season of the Deep Last Rite ritual weapon
The ritual weapon for Destiny 2 Season of the Deep is the Last Rite scout rifle, as revealed in theTWAB 5/11/23. So far, we know the Last Rite is a Tex Mechanica kinetic aggressive frame scout rifle, which means it expands this weapon foundry further.
While we don t know much more beyond these details and the array of ornaments you can earn, it will surely be a fun weapon to wield as we fight back the Witness on Titan.
Season 21 dungeon start time
We also know that a new dungeon is coming in Destiny 2 Season 21, opening at 10am Pacific on Friday, May 26, 2023. Little more is known about the Season of the Deep dungeon. Nevertheless, it will undoubtedly be a challenging and exciting new dungeon to dig our teeth into, hopefully giving some new story revelations to boot.
Season of the Deep Exotic armor Focusing
Exotic Armor focusing will also be arriving in Season of The Deep, broadening the ways you can get the pieces for your three classes. Players will be able to spend Glimmer, Ascendant Shards, and Exotic Ciphers to decrypt Exotic Engrams from specific expansions or specific Exotic armor pieces.
Furthermore, with no power increase this season, Pinnacle gear drops are not as in demand. Bungie has decided to replace many of these Pinnacle reward drop sources with Focusable Exotic Engrams.
This Week at Bungie 05/04/2023 detailed that To help make playing in our evergreen ritual playlists more worthwhile, we are changing the rewards for the basic complete activities challenges to a focusable Powerful Exotic engram. Bungie goes on to state that This gives most players 3 to 9 free, achievable, and deterministic weekly Exotic engrams, ready for focusing.
Finally, Season of the Deep will also implement a way for you to activate Deepsight Resonance on a weapon that is craftable, even if you have found one that doesn t have it activated. To do this, you will need a new currency called Deepsight Harmonizer which can only be acquired from the free and paid Season Pass for the time being. This will allow you to activate Deepsight Resonance on any weapon that meets the criteria.
Deepsight Resonance activation will not be available for:
A weapon that you have already unlocked the pattern for.
A weapon instance that has already had Deepsight on it.
Weapons purchased from vendors besides Xur and the Gunsmith.
Seasonal price increase
Beginning with Season of the Deep, standalone Destiny 2 Season Pass price will be increasing:
Season Pass 1,200 Silver (up from 1,000 Silver)
Season Pass + 10 Ranks Bundle 2,200 Silver (up from 2,000 Silver)
Season of the Deep updates
There are also several quality of life updates coming in Destiny 2 Season of the Deep.
Firstly, Season 21 will see the addition of more raid Triumphs that increase the drop rate of raid Exotics in older raids, this includes:
Last Wish One Thousand Voices
Deep Stone Crypt Eyes of Tomorrow
Vow of Disciple Collective Obligation
Vault of Glass Vex Mythoclast
Kingsfall Touch of Malice
This gives players extra challenges they can complete to increase the drop rate of the respective raid Exotic in much the same was as theDestiny 2 Conditional Finalityfrom theDestiny 2 Root of Nightmaresraid.
Next up, Bungie are removing Finest Matterweave and Rainmaker. These have long met the ire of avid Destiny players as they were awkward to use and take advantage of, leading most players to never use them at all. As such, they are being removed.
Vanguard Daily Bounties are also being reworked. Daily Bounties that required you to get a specific type of kill to complete, such as grenade kills, can now be completed anywhere in the game, though they will require double the amount. There are also several new bounties being added:
Killing elites, mini-bosses, and Champions.
Kills with elemental abilities, with bonuses for killing with a subclass keyword.
Complete two Vanguard activities.
Trials of Osiris is also seeing a major overhaul in Destiny 2 Season of the Deep. Dominion is now the core game mode for Trials, adding a new objective into the mix of this competitive mode. Perhaps most pleasing to players, several Trials Passages are getting reworked to provide a better experience:
Passage of Wealth will now grant +75 Trial reputation for every win, along with a further bonus based on your current rank in Trials.
Passage of Mercy will now forgive two losses if you have not yet been Flawless for the week.
Destiny 2 Season of the Deep leaks
There have been several interesting Destiny 2 Season of the Deep leaks. Most notable, community leakerLizhas provided details on new features and weapons arriving in Season 21.
According to the leaks,Destiny 2 Season of the Deep may introduce an unexpected Fortnite feature. Season 21 will supposedly include some kind of fishing mechanic, collecting fish that are then added to an aquarium in the Helm. Most likely, if this is true, it will function as this season s collectible, similar to theDestiny 2 action figureson Neomuna.
The leaks also point towards a new three-player activity with light rogue-lite elements. Liz notes that players will be able to pick a buff before entering each encounter. If this turns out to be true, it would no doubt be a fun and popular seasonal activity.
As for the Season of the Deep weapons, leaks suggest we will be able to get our hands on a Strand Exotic trace rifle, an Arc Exotic autorifle, and a Stasis Exotic scout. These would be the first Exotic weapons to fill these categories, making them exciting possible additions to our arsenal in Season 21. What s more, with Strand being as strong and widely used as it is right now, a Strand Exotic trace rifle would open up powerful new build opportunities. Keep an eye on the bestDestiny 2 Titan build,Destiny 2 Warlock build, andDestiny 2 Hunter buildto see if there are any shakeups in the new season.
That covers all we know about Destiny 2 Season of the Deep, including the Season of the Deep release date. Be sure to keep an eye out for more details on the new season as we approach the release date. In the meantime, find out howyour favorite Destiny 2 Super has probably just been buffed for Season 21or more about howExotics will rain from the sky in Destiny 2 Season 21: Season of the Deep update.