The Lego 2K Drive maps, or biomes as they are known, are respectably sized hub regions where you may play around and test out your newest creations rather than having a single big open-world playing area to explore. And checking them out is also a lot of fun.
To fully experience the world of Lego 2K Drives Bricklandia, you must familiarize yourself with everything it has to offer. Particularly considering that, whether you're playing by yourself or with others in multiplayer, the game is currently one of the best racing games available on the PS5, PS4, Xbox, Steam PC, and Nintendo Switch.
Lego 2K Drive maps
You can explore the following Lego 2K Drive maps and biomes:
Turbo Acres
Big Butte
Prospecto Valley
Hauntsborough
Turbo Acres
Turbo Acres is the starting area of Bricklandia and the location of a big racing trophy. Here, you can test out your favorite vehicles on a variety of roads, rivers, and acres of land.
Big Butte
Big Butte is a wonderful spot to drive around if you're trying to get away from Bricklandia's main metropolis because it has sandy plains that stretch for kilometers and some otherworldly and bizarre phenomena.
Prospecto Valley
The Prospecto Valley is where you'll find riches and mountains for miles in every direction. For those looking to test their vehicles' off-road talents and make some large leaps, this is the ideal spot.
Hauntsborough
The most terrifying of the lot, Hauntsborough includes a lot of terrifying items that will try to frighten you. Halloween, though, might be your greatest option if that's your favorite holiday of the year.
The Awesome News Network video for the game has a list of all the Lego 2K Drive maps, which you can see in the video down below.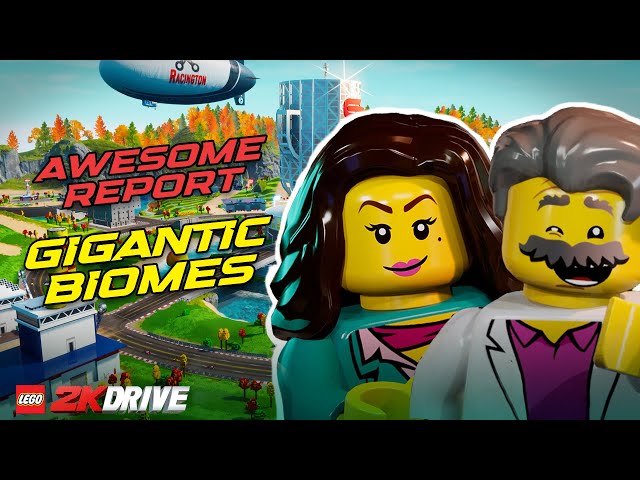 When you start the game, those are the maps and biomes you can explore in Lego 2K Drive. You are in for a treat because it is one of the best racing games for the PS5 and Xbox that is currently available.